Good morning everyone! Hope you're all doing well...if not don't fret because Friday is just around the corner...
See, I told ya!
Today I did something different than a card. I mentioned in an earlier post about the dominoes that I have been trying, so I thought I would create some for Halloween and turn them into magnets!
Here are some closer shots...also, you will notice that in the picture above the Halloween domino is not colored in and this one is
What I did to achieve this was to apply some VersaMark ink and take a Q-tip to dab on some chalk. Very simple. But since the VersaMark is so sticky you will want to coat it with some Kylon or something similar.
But wait there's more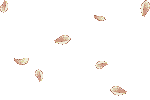 I also made 2 other dominoes using rub-on's, chalk and ink
This is the one with a rub-on with some yellow chalk on sun
This is inked and the heart is a rub-on
I also put out a few small Halloween decorations just to add some "spirit" around the place.
Just some small items because hopefully we are moving soon...no we haven't found anything yet but I am hopeful.
Well that's about all I have for today. Thank you for stopping by, take care and try to find time today to get crafty and messy...it'll make you feel better.